First, you need to have Adobe Reader installed. If you do not have it, visit http://get.adobe.com/reader/ to get the latest version.
Next, the FileOpen plug-in needs to be installed. Before installing the plug-in you need to quit out of Adobe Reader as outlined in the image below.
To download the FileOpen installer for Mac OS 10.9+:
Open FileOpenInstaller.dmg and run the installer inside, FileOpenInstaller-B000.pkg.
Verify that you can open the install complete.pdf test file with Adobe Reader, not Apple's Preview.
If you are using Mac OSx 10.8+ protected documents can no longer be viewed in Safari. The best practice is to open the protected document using the "Open with a Different Viewer" button in Firefox (image below).
And then select Adobe Reader from the resulting Dialog box.
Alternatively, you may download your files to your local disk first and then opening them using the standalone Adobe Reader/Acrobat.



Please check to see if somehow Adobe's certified mode has been enabled. This will prevent the FileOpen plug-in from loading and cause this problem. The checkbox at Adobe Reader > Preferences > General > Use only certified plug-ins MUST be unchecked for proper plug-in operation: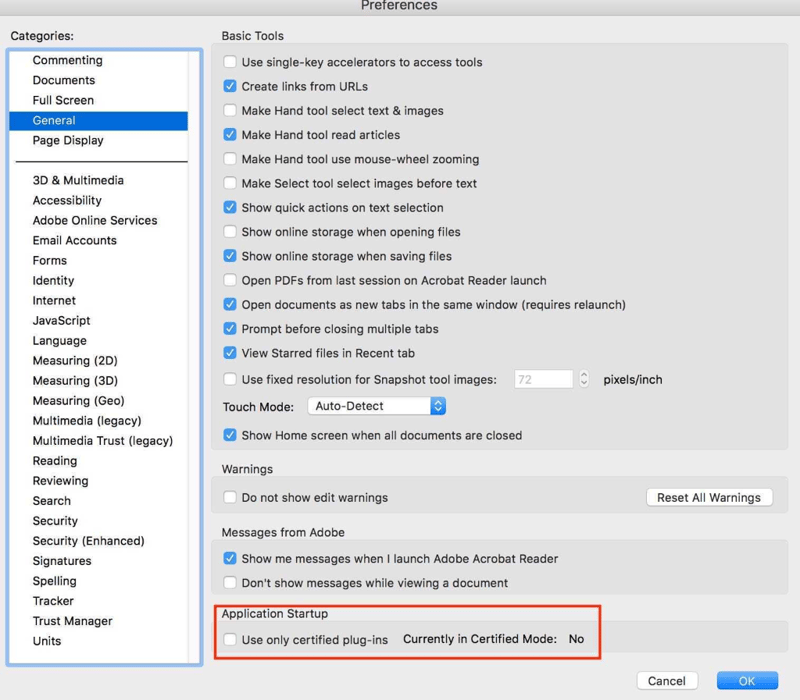 This issue may be due to the broker running but missing a component in Adobe Acrobat Reader.

Here are the step-by-step instructions for enabling protected mode:
Open Adobe Acrobat Reader.


Hover to the 'edit' tab at the top of the application and click on it.


Hover to the bottom of the menu and click on 'Preferences'.


On the 'Categories' Menu hover to the bottom of the menu, locate 'Security (Enhanced)', and click on it.


In the 'Sandbox Protections' uncheck the following features.

5a. Enable Protected Mode at startup.

5b. Run in App Container.
If you have disabled 'Certified Mode' and enabled 'Security Enhanced', but still, run into issues, please fill out and send us a support request.