File "sync-and-share" is an essential part of doing business today. It's likely your employees use multiple tools to sync files across personal and corporate devices, including phones, tablets and laptops; sharing files and folders with friends, family, colleagues, prospects and customers. Employees have embraced the cloud, but likely without considering the necessary security precautions. We know we should be wary of moving our high-value or confidential documents to an external server; however it is often the easiest way to get the job done.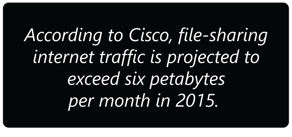 Put simply, most file sharing services lack the tools IT needs for administration, control and visibility. At present, most cloud vendors don't even offer document-level security or DRM. Eventually this may change, but when it does it is almost certain that each vendor will implement DRM differently. Files uploaded to different sync and share systems will be encrypted differently by each vendor, and therefore won't be portable in encrypted form between systems.
This will lead to yet another burden on IT teams as they will have to interact with each vendor's administrative tools to manage or audit protected file usage. In contrast, files encrypted using a DRM implementation like FileOpen will be encrypted in the same way regardless of which cloud system they are stored on, will remain encrypted at all times regardless of how they are delivered to the intended recipient, will not be readable by employees of any cloud service, and will provide a single interface to control usage across all such distribution channels.
With this in mind, here are four reasons to add a layer of FileOpen security to your current file sharing services.
Minimal change to process: Once FileOpen software is installed on your machine there are only two changes to your process. Instead of uploading or syncing source documents to your file sharing service, you upload the FileOpen-protected version. You then only need to add the intended recipients to and authorized group within a Web-based PermissionServer. If one of those users accidentally forwards the document to the wrong person, it can't be opened or viewed. Moreover, DRM enables you to instantly revoke access to a previously authorized recipient, if necessary, or even to one of their devices if misplaced or stolen.
Enforce acceptable use policies: Advanced DRM solutions allow you to control exactly how a recipient uses your document, adding layers of security to the most sensitive documents. Restrict or expire privileges on a need-to-know basis. Different organizations, and levels within them, can be granted unique sets of permissions on the same document.
Apply detailed watermarks: As a final measure of security, watermarks can ensure the traceability of sensitive documents by overlaying key information about the user, such as their name, date, time, printer and location. Watermarks can provide the "smoking gun" in determining where and when a document was leaked, and aid authorities in enforcing compliance with privacy regulations.
Enable secure, but uncomplicated access: At the core of any failed security initiative is an overly complex, hard-to-use solution. FileOpen eliminates such hurdles with the FileOpen Viewer, which provides access to protected documents through Web browser with no plugins or desktop software required. It also provides Android or iOS user's access on their smartphones and tablet through native applications.
To learn more about FileOpen software and how we can add a layer of security to any file sharing service, feel free to Contact Us.