We have released an updated version of the FileOpen Viewer for iPad® & iPhone® on the App Store. This version 1.5 release comes with new features that enhance your ability to securely access FileOpen-protected documents.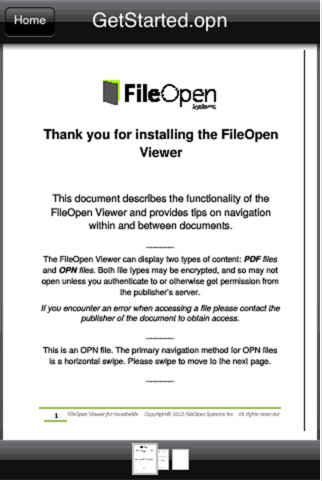 What's New in Version 1.5
Optimizations and bugfixes, including improved display of pdf files containing nonstandard structural elements.
Support for a custom URL scheme that enables the automatic opening of pdf or opn files in the viewer, instead of requiring the user to select "Open with FileOpen" from a list of apps.
Ability for publishers to define the name of the "Back" button in order to have this redirect to their website.
Support for additional watermarking options including control over font fill and stroke.
Support for additional protocol elements including DocuTimeOut and page view notification, and support for hashing of password values.


To learn more, check out the FileOpen Viewer for iPad/iPhone product page, the FAQ for Publishers and FAQ for End-Users.