This month Gartner released the first-ever "Magic Quadrant for Enterprise File Synchronization and Sharing (EFSS)", picking key players among over 100 vendors in the rapidly growing market for online file sharing services. The report evaluates 19 EFSS vendors based on 15 criteria, measuring completeness of vision and ability to execute on that vision. Among mandatory features and capabilities, Gartner required a base level of security to include user password authentication, lockout after a given period of inactivity, selective remote wipe of the EFSS mobile app and related files on the device and data encryption on transfer.
While FileOpen does not provide an EFSS solution to compete with these vendors, we were pleased to see that our OEM licensees Intralinks and HighQ appeared in the quadrant. Since 2002, FileOpen encryption has powered the PDF security and direct Adobe Reader support in Intralinks' virtual data room (VDR) offerings. HighQ, another VDR platform, integrated FileOpen DRM in 2007, enabling their customers to apply granular access controls to their shared documents.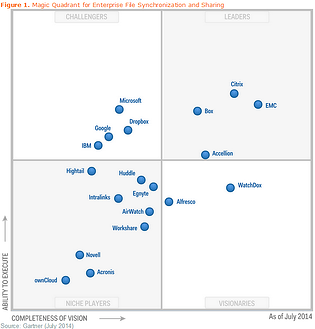 FileOpen offers the same DRM tools to enterprises directly as a stand-alone solution with a flexible cloud connector. Currently this cloud connector supports Dropbox, Box, Egnyte, ShareFile, Google Drive, OneDrive, and SharePoint while others are being added all the time. Each connector is unique in its configuration and code making them extremely flexible. Deployment can be tailored to meet specifics of the desired integration.
Gartner's EFSS report goes on to say that mature products within this market have features to ensure files leaving the sharing location are encrypted and only readable by those authorized to access the data. That said, many vendors in this study do not offer these features, as demonstrated in a few vendor cautions published in this report:
Acronis: No DRM capability is supported yet to protect shared documents once downloaded on an unmanaged device (e.g., to revoke permissions to open, view and edit a document).
Sharefile: Despite the rich set of policy management and security features, DRM capability is not yet supported to protect shared documents once downloaded on an unmanaged device — for example, to revoke permissions to open, view and edit a document.
Dropbox: Enhanced security features, such as content-aware data loss prevention, built-in DRM encryption, HIPAA and FISMA certifications are missing. However, levels of security for cloud-based data and service protection are available.
Hightail™: DRM encryption for shared files and content editing are not supported.
Discover what you can do when powered by FileOpen or learn more about adding a layer of FileOpen security to file sync and share tools.