We are pleased to announce our first webcast in a monthly series which will show how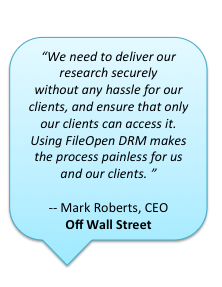 FileOpen's solutions are used to solve real problems in specific markets. To kick off the series, we're going to showcase our research publishing customers, show how they are using FileOpen DRM, and reveal the latest developments that make FileOpen a "killer app" for high-value research publishing.

If you publish proprietary research and want to learn how to protect it without turning off your subscribers, you won't want to miss this webcast. Join us on Tuesday, August 13 at 12 noon Pacific (3pm Eastern).

We'll be showing attendees how to:
Share documents securely on PCs, iPad, iPhone, and Android, BYOD...anywhere

Provide seamless user access without client plug-ins or installations

Send documents by email or host in the cloud (e.g. Dropbox)

Track when and where your documents are being viewed, and for how long

Control printing, apply watermarks and un-share your documents at any time
Our senior product managers and engineers will be on hand to answer all your questions.
Question: which market segment would you like us to focus on in our next webcast?