Last week I had the honor of speaking to an international group of standards organizations at the Standards Publishing Advisory Board (SPAB) annual meeting, hosted by our partner IHS. Standards Developing Organizations, or "SDOs", are responsible for disseminating the documents that describe their industry's or their country's standards for building, manufacturing, military equipment, and so on (in the U.S., you may have heard of ANSI, SAE, and ASME standards). Thanks to standards, we have consistency and interoperability in the products and systems we use every day.
Because of the mission-critical nature of their content, standards publishers are among the most exacting customers a technology company can have, and the choices they make can influence which innovations are successful in the publishing industry at large. Our host, IHS, is one of the largest resellers of standards documents, aggregating the work of hundreds of SDOs and expanding their reach with ecommerce portals and other technical enhancements.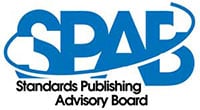 This may seem like a quiet, boring segment of the publishing industry, but it is anything but. At the heart of standards publishing is a conflict between making essential information widely available to the technicians whose jobs depend on it, and the necessity of earning and protecting revenues for the standards bodies and the publishing companies that serve them.
Opinions run strong among the different SDOs as to how to achieve these dual goals—use DRM technology to prevent unauthorized sharing and uploading to sites with pirated documents? Or pursue copyright enforcement through legal channels, after a breach has been discovered? These questions have led to heated debates among SDOs and standards publishers, but as a community they resemble the U.N., ultimately seeking consensus on important issues (which is, after all, what standards are about).
From the Format Wars to the Race to Be Everywhere: 20 Years of DRM
The SPAB audience included many long-time FileOpen customers, as well as DRM skeptics and smaller SDOs who are just beginning to explore technology to protect their intellectual property. Rather than get into a philosophical debate about DRM, I presented a history of digital publishing and the facts of where we are today: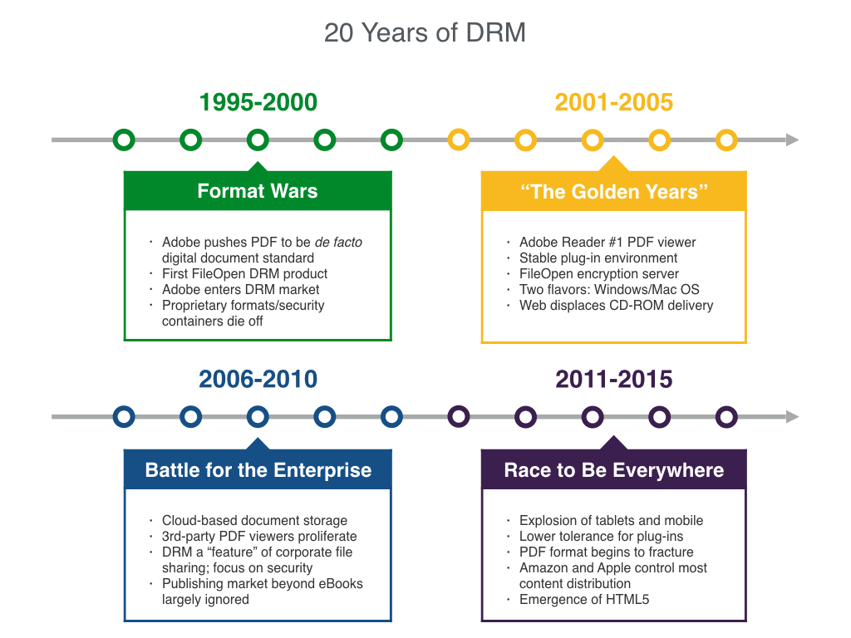 The upshot of this 20 year history is that the publishing landscape has become so complex, it is impossible (or would be foolish) for a publisher to choose one distribution channel or file format to distribute their content. Worldwide, the market share of viewing devices and web browsers is fragmented and in flux, with no clear winner (for example, Windows still dominates the desktop OS market, Android vastly outpaces iOS in smartphone operating systems, and Chrome is inching out the competition among Web browsers).
Even Adobe Reader's market share of the PDF viewer market is being challenged by a long list of 3rd party viewers, many of them implemented without full adherence to the published PDF specification, which can lead to unpredictable changes in document display and behavior. The fracturing of the PDF landscape is both forcing and enabling publishers to provide content in other formats. For example, the Chrome browser does not support complex or DRM'd PDF files, but does include the Flash runtime (even on Linux). Likewise, nearly all mobile devices now have an HTML5-capable browser, so the explosive growth of those devices also creates an enormous new delivery platform. But on non-mobile devices, the HTML5 environment is less secure than either Flash or PDF, so the new environment also imposes a requirement that delivery software positively identify mobile devices as such.
Playing Whack-a Mole with Copyright Infringers
Meanwhile, piracy of standards documents continues to run rampant. Several SDOs described efforts to scan the web for illegally uploaded copies of their content, then sending DMCA (Digital Millennium Copyright Act) takedown notices to the owners of the host websites. One SDO reported having sent more than 150,000 such requests with a compliance rate of less than 50% (most of the sites are outside of the US so not governed by the DMCA legislation).
So what is a standards publisher to do, and what role can DRM possibly play? The complexity of the publishing landscape poses a big challenge, but also an opportunity to embrace that complexity and use technology to serve the widest possible viewing audience. We've been working with a select group of standards publishers to develop a protected publishing system that is invisible, flexible and future-proof.
FileOpen DocServer (currently in beta) will enable publishers to deliver content seamlessly to the widest range of devices and viewers, with the degree of security they choose, for the best possible end-user experience. Instead of publishing documents based on predictions of users' devices and platforms, DocServer is based on a "detect, encrypt, deliver" model that serves documents dynamically based on the end-user environment.
Ultimately, our goals are aligned with those of the standards publishing industry—to enable a frictionless experience for the users consuming documents, while employing technology quietly in the background to preserve the intellectual property and revenues of SDOs and publishers. I closed my talk with a question for the audience: "What would a standard for DRM look like?" We are looking forward to working with our partners to solicit feedback and help define a standard for DRM—because often real progress is the product not just of competition, but of consensus.
Contact Us for a sneak preview of "The New DRM"--FileOpen DocServer